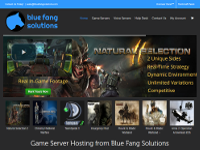 While Blue Fang Solutions is a young company, the staff are industry veterans working in many different hosting environments. We know what it takes to provide the best game server hosting possible. We are always learning and sharing our experience. So if you ever have a question or a suggestion don't hesitate to ask.
Our friendly and experience support staff is standing by to help. Accessible via multiple support channels you can reach us using our Ticket System, E-Mail, Teamspeak and Live Chat. We know having a responsive support system when running a server is important. That is why we offer so many ways for you to get the help you need with your game server hosting.
Our game server hosting environment demanded a level of customization and reliability that no off-the-shelf system could provide. We have built our system from the ground up to better serve our customers. We are constantly adding and improving our system and we welcome all ideas and recommendations.
Using the latest enterprise and enthusiast consumer grade hardware from E5-2620, e3-12xx and I7?s. We have the computational power and single thread performance that game servers demand. We know that performance is paramount to an enjoyable experience. That is why we spared no expense to bring you the latest and fastest hardware.
All of our planning with our support, experience, network, software and hardware is to bring you the most reliable service possible. We know that you want someone to stand by their service and you will find no less with Blue Fang Solutions. If your service is down for an extended period of time or we have made a mistake, we will make it right.
We are always improving and expanding on our network. We make special peering agreements where possible to provide our customers with the best connection for their servers. If you are interested in a location that we are currently not offering please let us know and we will make every attempt to work with you.
Date Founded: 2012-05-03
Coupon Codes: GSP10 – 10% off recurring
Website: http://www.bluefangsolutions.com