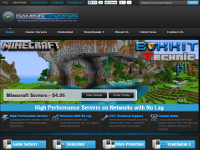 GamingServers Pty Ltd provides premium game server hosting of popular games such as Minecraft, Garry's Mod, Terraria, and much more!
We host and support over 100 games and mods, our 24/7 staff support and knowledge is unrivaled. If you are looking for a host that only uses high performance servers on networks with no lag then make sure to check us out.
Use the coupon code 10%GSPCoupon to gain 10% off any game server or teamspeak 3 hosting, please leave a review below we appreciate all your feedback.
Our dedicated servers are hosted in United States. Our administrative headquarter is located in Queensland, Australia.
Date Founded: 2013-08-13
Coupon Codes: 10%GSPCoupon
Website: https://www.buygamingservers.com